History
The history of PJSC "GSKTI" dates back to November 1947 when by the Order of the Cabinet of Ministers of USSR the Mariupol Ilyich Machine Building and Iron-Steel Works became the head enterprise manufacturing refuellers for rocketry. The Special Designing Bureau (OKB) was founded at the Works. The Bureau took an active part in the designing of railway refuellers for liquid oxygen, spirit and hydrogen peroxide. Later OKB was renamed as the Special Designing Department (SKO). The specialists of the Department widely participated in launching of the space ships, ballistic rockets and human space flights. There were designed the bowsers ТЗ-16, ТЗ-22 of airfield servicing for rocketry refuelling.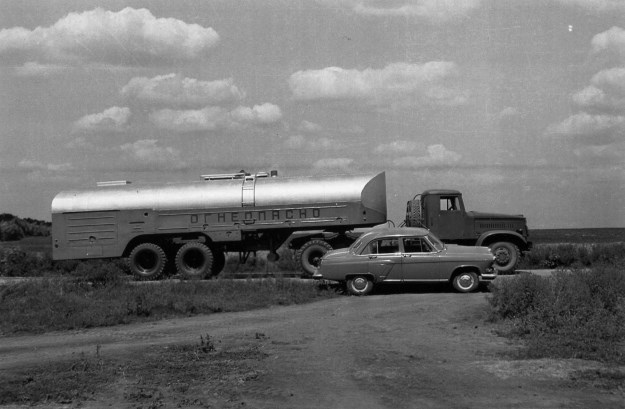 In 1961 the Department was reorganized. There were appeared such designing departments as: КО-1 (rockets refueling), КО-2 – air refuellers, КО-3 (armor, armored carriers, chemical reactors). Besides, the Erection Supervision Department was organized. The SKO departments worked properly on designing of refueling systems for rocket complexes, units for launching of the strategic missiles. The Special Designing Departments developed parts for armored vehicles and carriers, worked on the project of reusable spacecraft system "Energia-Buran", chemical reactors, stands on aero-cushions for Moscow Olympiad. Among the developments there was a car launcher for launching the ballistic rockets from the railway track.
The design-engineers are proud of their developments in the field of power engineering industry, designing of airdrome refueling systems and many others projects performed within the program "Motherland Shield" including the designing of the well-known СС-20. On the 9th of April in 1981 the GSKTB (Head Specialized Designing and Technological Bureau) was created on the base of SKO and other technological departments. On the 15th of November, 1991 on the ground of GSKTB there was formed the firm incorporated into Concern "Azovmash".
In 1992 on the base of GSKTB the State Head Specialized Designing and Technological Institute (GSKTI) was founded.
From January 1, 1996 it became the legal independent firm incorporated into Concern "Azovmash".
In 1997 GSKTI obtained the status of the Open Joint-Stock Company. In March 2000 OJSC "GSKTI" became a part of OJSC "Azovmash".
New products of general and heavy engineering machine building were being developed and engineering design supervision was performed.
On the 11th of September in 2001 the unified engineering – research center – GSKTI was organized on the ground of 2 institutes.
In 2011 OJSC "GSKTI" was reorganized and became PJSC "GSKTI". Since then Yu. D. Serdyuk has been its General Director. In December 2010 OJSC "GSKTI" rented its property to PrJSC "Azovelectrostal". Designing and technological departments of GSKTI merged into newly established Research-Technical Complex (NTK) of PrJSC "Azovelectrostal".