History
Historically PJSC "MTZ" originated from the thermal shop of the Ilyich Iron and Steel Works where the armor was heat treated and straightened. Later the shop was named shop №36. There the converters, charging devices, chemical reactors were manufactured. In 1970 stamping of tank heads was mastered.
By reason of conversion the great number of the military orders and contracts were cancelled and cut down. On the 20th of January in 1994 by the Order № 62 of the Ministry of Heavy Engineering on the base of Concern "Azovmash" the OJSC "Azov" was created, but shop № 36 of "Azovobschemash" and GSKTI were not included into it. Shop № 36 became Mariupol Thermal Plant and received the status of a state firm. A.I. Ivanets was appointed the first director. In 1997 OJSC "MTZ" was created on the base of the State enterprise "MTZ".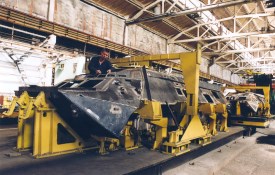 Main activities include following: assembly-welding and deposit welding of metallurgical equipment (furnace and converter) products, stamping the parts for cars (such as heads, inserted plates). After putting into operation the moulding line intended for the large car building components casting at JSC "Azovelectrostal" the Mariupol Thermal Plant was committed to make thermal cutting and heat treatment of side frames.
In 2007 the property of the Thermal Plant was rented out. On its base two (2) shops were formed: shop № 136 included into "Azovobschemash" and manufacturing the products of heavy engineering and general machine building, and shop № 103 included into "Azovalectrostal" and performing thermal cutting.
On the 19th of May in 2010 V.I. Telytsya was elected as the Chairman of the Board - the General Director of OJSC "MTZ".
In 2011 OJSC "MTZ" was reorganized in PJSC "MTZ" and V.I Telytsya was elected as its General Director.